We need your consent
The video is provided by the external video provider Vimeo . To display it we need your consent.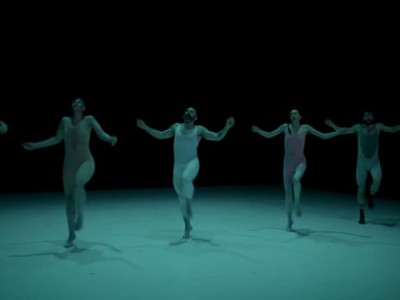 The Pretty Things
Catherine Gaudet (Montreal)
Dance / performance | fabrik Potsdam
Five individuals. Their movements are on repeat like in a symphonic canon. They are unshakeable. The rhythm of a metronome soon fills the room. The protagonists, who have become machines, start to move in a rush – the effort increases and gradually gives way to exhaustion. As the choreography becomes more bold, a dynamic of liberation arises, trying to break out of the cyclical prison without ever deviating from the rhythm. Despite the collective's harmless presentation, they play with a systematic progression, the smell of cheap veneer about to crack. The Pretty Things is a piece full of tension that exposes the mechanical use of bodies. Catherine Gaudet thus reflects the contradictory impulses of our time and explores the false pretenses of the show business apparatus.
After the performance on May 31: Talk with the artists
"A fantastic dance production that I would definitely see again (...). The dancers move for an hour without a break. We watch them in this really unbelievable physical expenditure and are drawn into something hypnotic (...). I was highly fascinated by it!"
Elisabeth Nehring, review at FAZIT, Deutschlandfunk Kultur, 15 May 2023
Choreography: Catherine Gaudet
Performers: Dany Desjardins, James Phillips , Scott McCabe, Lucie Vigneault, Lauren Semeschuk
Cast premiere: Francis Ducharme, Caroline Gravel, Leïla Mailly, James Phillips, Scott McCabe
Music: Antoine Berthiaume
Costumes: Marilène Bastien
Light: Hugo Dalphond
Rehearsal: Sophie Michaud
Photograph: Mathieu Doyon
Production: Compagnie Catherine Gaudet
Co-production: Festival TransAmériques, Agora de la danse, Centre Chorégraphique National de Caen, Réseau CanDance (Toronto), Centre national des Arts (Ottawa), Harbourfront Center (Toronto), DLD-Daniel Léveillé Danse
The guest performance is supported by the Conseil des arts et des lettres du Québec CALQ and the representation of the government of Québec
Duration: 55 Minuten
PRICE GROUP C
Advance booking: 20 € / reduced 9 €
Box office: 21 € / reduced 9 €

Double ticket with Losing It:
PRICE GROUP B
Advance booking: 26 € / reduced 12 €
Box office: 27 € / reduced 12 €

Advance tickets (except festival pass) are valid as a ticket for public transportation for one person for the Berlin ABC area (Berlin/Potsdam) two hours before the start of the event and until 3:00 a.m. the following day.