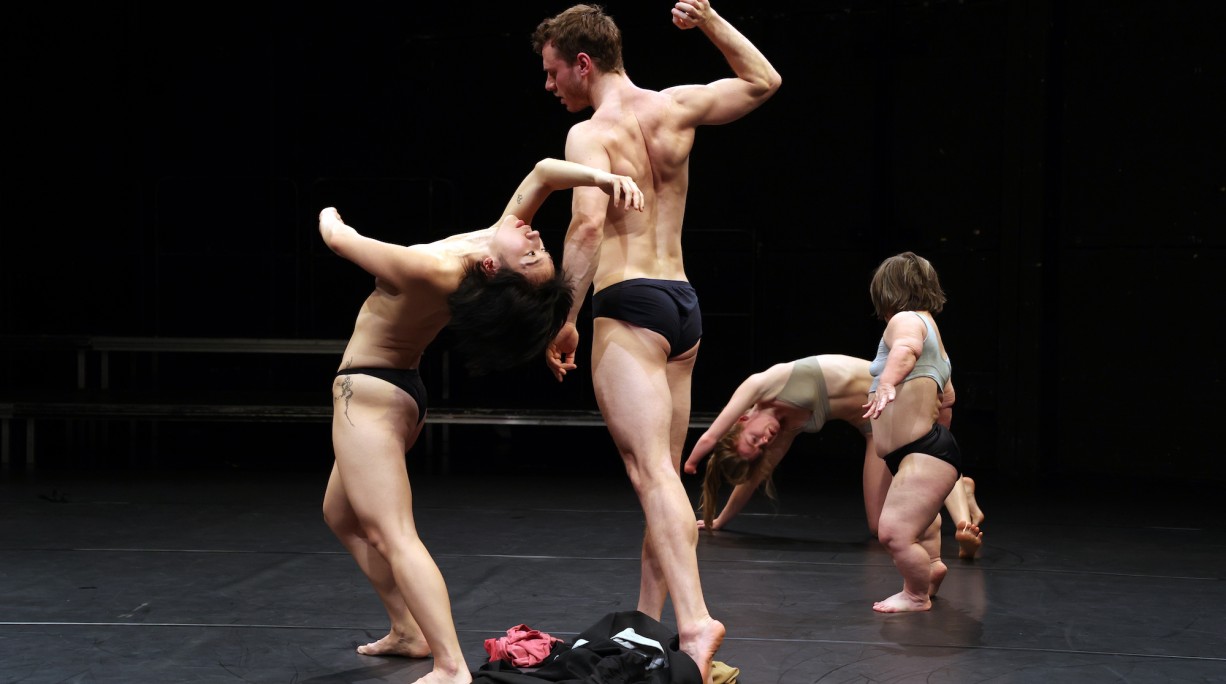 We need your consent
The video is provided by the external video provider Vimeo . To display it we need your consent.





Harmonia
Unusual Symptoms / Adrienn Hód (Bremen)
Dance / performance | fabrik Potsdam
Ten dancers, with and without disabilities, warm up on stage. They invite us to discover their danced personalities, explore the capabilities of the human body, and different ways of being together. Initially focused on their individuality, they eventually find themselves together in a space of exchange, filled with goodwill and self-confidence. With exuberance and a good dose of self-irony, Harmonia questions physical diversity, the status of the body, and hierarchies in society, but also the supposedly progressive forms of contemporary dance. Between spontaneity and abolition of dance conventions, the piece challenges the audience and confronts it with prejudices. Choreographer Adrienn Hód playfully succeeds in realigning our gaze.
Harmonia has been awarded the Rudolf Lábán Prize 2023 for the best dance production in Hungary on May 10, 2023 in Budapest! The Rudolf Lábán Prize is one of the most important dance prizes in Hungary, it was established in 2005 by the Trafó and the MU Theatre and has since been awarded annually by a critics:inside jury to outstanding personalities and works of the dance scene.
On both days 19:00: Introduction
Afterwards on both days: talk with the artists

WORKSHOP
Exploring Energies and Spaces
with Unusual Symptoms
Thu 08. – Sat 10. June 2023 | 17:30–19:30
By and with: Aaron Samuel Davis, Florent Devlesaver, Gabrio Gabrielli, Paulina Porwollik, Leisa Prowd, Tamara Rettenmund, Nora Ronge, Andor Rusu, Young-Won Song, Károly Tóth.
Co-creation: Yanel Barbeito, Carolin Hartmann
Choreography: Adrienn Hód
Artistic collaboration: Csaba Molnár
Music: Ábris Gryllus
Stage and costumes: Anna Lena Grote
Lighting: Christian Kemmetmüller
Dramaturgy: Gregor Runge
Dramaturgical assistance: Ármin Szabó-Székely
Production management: Alexandra Morales
Production assistance: Emily Masch, Andy Zondag
Production management Hodworks: György Ujvári-Pínter
Production assistant: Naomi Darleen Schade
Stage management: Lena Maire
Photos: Jörg Landsberg
Production: Theatre Bremen. In co-production with Trafó House of Contemporary Arts and OFF Foundation. Supported by NATIONAL PERFORMANCE NETZ co-production funding dance - funded by the Federal Government Commissioner for Culture and the Media - and the Goethe Institute Hungary. Unusual Symptoms are an in-house company at Theater Bremen.
The guest performance is funded by the Tanzland programme of the Federal Cultural Foundation. Supported by the Federal Government Commissioner for Culture and the Media
Duration: 90 minutes
PRICE GROUP C
Advance booking: 20 € / reduced 9 €
Box office: 21 € / reduced 9 €

Advance tickets (except festival pass) are valid as a ticket for public transportation for one person for the Berlin ABC area (Berlin/Potsdam) two hours before the start of the event and until 3:00 a.m. the following day.