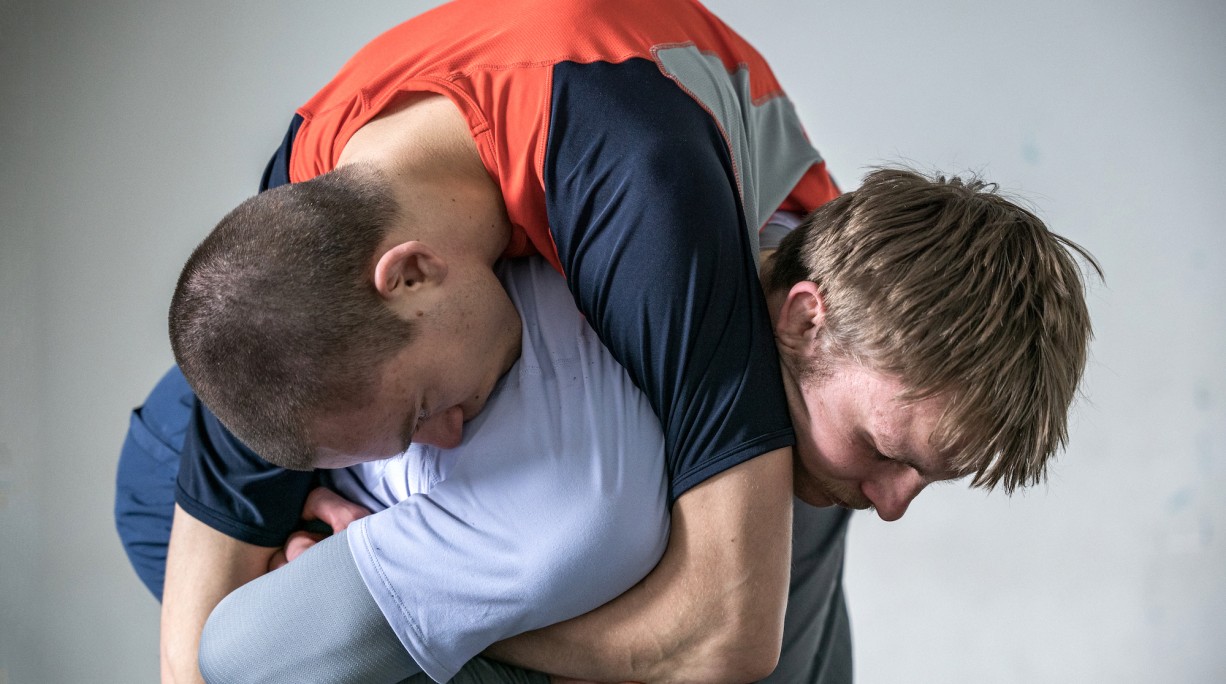 We need your consent
The video is provided by the external video provider Vimeo . To display it we need your consent.




Where The Boys Are (14+)
explore dance – Tanz für junges Publikum
Yotam Peled (Berlin/Tel Aviv)
Young dance | Bürgerhaus am Schlaatz fabrik big stage
Two men meet each other. They start challenging each other, assessing the strength of the other and seeking his weak point. Opposing forces in fight. Each wishes to conquer the other. Eventually through continuous rituals of collision their bodies soften. A new vulnerability emerges. The bodies move together, sometimes in intimate familiarity, sometimes in their own quality. Where the Boys Are playfully explores the intersection between dance and martial arts. By appropriating the vocabulary of different movement practices and styles of combat, the two performers transform the stage into an arena that negotiates masculinity and the relationship between men – between hard and soft, conflict and care, combative and fluid.
Fri 09 June: Performances in schools

WORKSHOP
Between Dancing and Fighting
with Y. Peled, N. Knipping, A. Nekrasoff
Mon 05. – Fri 09. June 2023 | 17:30–19:30
Choreography: Yotam Peled
Performers: Nicolas Knipping, Andrius Nekrasoff
Dramaturgy, Outside Eye: Moos van den Broek
Production Assistance: Laia Montoya
Photos: Jonas Zeidler
A production of explore dance - network dance for young audiences, a cooperation of the partners fabrik moves Potsdam, Fokus Tanz / Tanz und Schule e.V. Munich, K3 | Tanzplan Hamburg and HELLERAU - European Centre for the Arts Dresden. Supported by TANZPAKT Stadt-Land-Bund and Bureau Ritter/TANZPAKT RECONNECT with funds from the Federal Government Commissioner for Culture and the Media within the framework of the initiative NEUSTART KULTUR Hilfsprogramm Tanz, the Department of Culture and Media of the Free and Hanseatic City of Hamburg, the Cultural Department of the City of Munich and the Bavarian State Association for Contemporary Dance with funds from the Bavarian State Ministry of Education and Cultural Affairs, the City of Potsdam and the Ministry of Science, Research and Culture of the State of Brandenburg as well as by the Saxon State Ministry of Science and Art and the City of Dresden.
Many thanks to the Bürgerhaus am Schlaatz
Duration: approx. 40 minutes
Bürgerhaus am Schlaatz:
Admission free of charge

Open-Air fabrik Potsdam: 
PRICE GROUP E
Advance booking: 13 € / reduced 6 €
Box office: 14 € / reduced 6 €
Schools: 4 €

Advance tickets (except festival pass) are valid as a ticket for public transportation for one person for the Berlin ABC area (Berlin/Potsdam) two hours before the start of the event and until 3:00 a.m. the following day.